---

"Stocks To Watch"

"Stocks To Watch" are some of our favorite choices for the current market
with most having established trading ranges. We try to work with-in
the trading range and feel this group of stocks are active
stocks and are worth taking a closer look.


---
Sunday, January 29, 2023
---

The prices below are the closing prices on the last trading day
of each week and are compared to the closing price the week before.

Closing prices on Friday, January 27, 2022


The

markets, looking at the table above, show 0 indices reaching a new high since 4.21.22 (DJU), with the last new high on the Nasdaq on 1.04.22. Also, the Russell 2000 (RUT) & SPREAD, both broad markets that lean to the big OTC stocks reached a new all-time on 11/8/21 (over a year), but not since.



Adding
insult to injury, all the indices are at a loss for the year, with 4 closing in bear market territory, vs 4 last week , although 1 indices are currently in correction territory for the year. Two of the bears
are the NASDAQ, the the Russell 2000, with both leaning toward the big OTC stocks
. Since I believe that markets can't go any where with out OTC indices, if I am correct we still have room to move lower.

Inflation
is running away, reaching levels not seen in 40 years, with high gas prices and higher prices on everything, and appears to be just starting. I see no near term reason for inflation to turn down.The market do not like inflation, never have and never will.

This is the main reason to visit this page weekly.
I introduce new picks on this page first
.



Speaking of new/old picks if you bought
Know Labs, Inc. (OTCQB:KNW) several weeks ago (recommendation below) you would have moved up almost 500%. From $2.03 a share to over $7.50
before backing off
.
Learn more about Know Labs, Inc. below
If

we want to get in the market today we might be better waiting. If we still want into this Biden man-made recession we want to look at the trusted and true stocks such as Walmart, Intel Corp. (low PE-low stock price). Also, some of my favorites such as

AMD

(big mover that corrected over $90 a share),

Intel

(lowest performing DOW 30 stock for 2022) and

Qualcomm

(potential big mover in 2023) that "hopefully" have fallen back enough to put them in a buy area.




Also

, in my opinion, this is an excellent time to lighten up on some of the big ones while searching for a low-priced stock with lots of news, along with the products and the appearance of a strong future. Finding a nice low-priced stock is not that easy but they're out there and big money can be made on them. A good example would be on our below list,

KNW.

This is a company that appears to have a great future.

The

price of gold had been bouncing recently which can be blamed on Biden's World War III, but made a decent starting 10 weeks ago. Gold closed at $1927.70,

up
-$4.70
vs
up
-$
52.50
the week before
. Gold hasn't traded over $2000 since August 2020 (2+ years ago). Gold closed

off -$0.40

for 2022
but managed to close
up
-$
97.60
for 2023 so far. If you want to buy metals look to silver as the better bet (after a pullback.)


Since

I am a technician first, the fundamentals will always take a backseat while the trend will stay in the front. Due to the recent rally in the markets we are finding many stocks are simply too high to buy. We can no longer count on the recent trend of any industry, meaning research and homework will be needed to find the winners within each industry.


The DOW 30 stocks had 0 new highs last week, vs 2 new 52 week highs the week before
. The problem is the same stocks are the ones that keep setting new highs frequently leaving the rest in the dust. IBM recently hit a new high, which is something that has not happen in quite awhile.
In

2010,

when the

discount

to the 52-week high for

all 30 stocks

was at

-4.19%

the markets sold off heavy, simply because too many stocks were too high to buy reaching the
all-time low on this index is

-52.76.%
. This is telling us the markets could still have quite a drop ahead of us if the DOW 30 even attempts to get near the all-time low.


I'm

betting that the OTC stocks will outperform the blue chips on the upside and once the bear hibernates the big OTC stocks will rule.

I believe

we are starting to see signs of trouble when looking at how long the chart below has been falling. The question now is how low will it go? If I am correct we will need a changing of the guards come November, with the current rally reflecting this. if we get it I believe the markets will move higher near term, but for how long is the big question.

The chart below may teach us much over the next few weeks.




The

recent rally finished the year as the worst year since 2008. Currently, looking at the chart below we can see that a very important resistance resistance level at -18% could go either way.


The
majority of the Dow stocks are still down quite a ways and with the election behind us it is very hard for me to figure out the coming months. I believe the bottom of the markets has not been touched yet with more downside to come.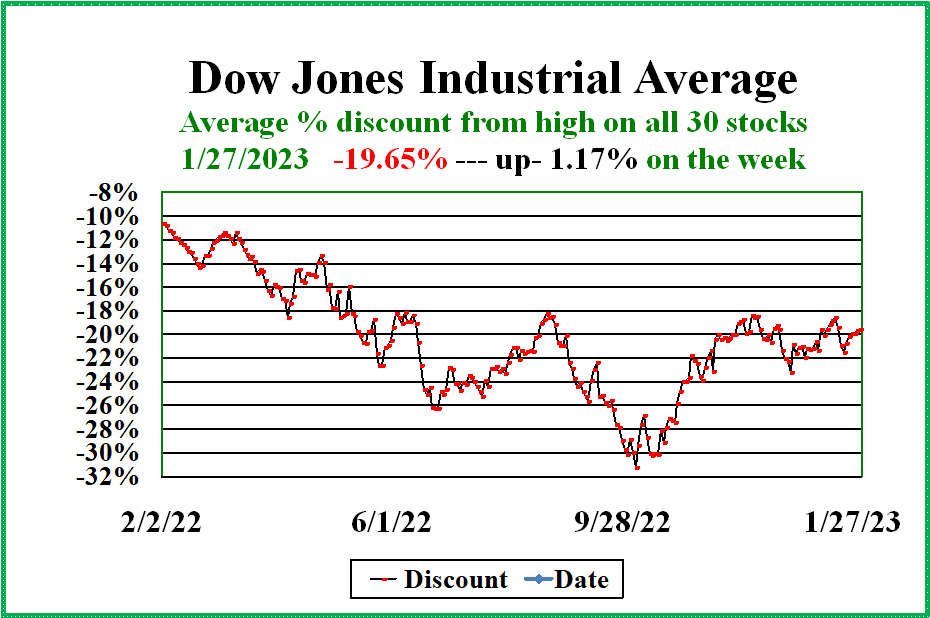 IN MY OPINION MY MOST IMPORTANT CHART EVER !
See more information on the DOW 30 stocks by clicking here

Looking at the chart above we can see a downtrend (started early in 2021) continuing with few slight rallies turning down again with a strong up tick recently. The discount to the 52-week high was more than

-22%

. After climbing the discount moved to near

-4%

before starting a down hill trend hitting a new 52 week low of

-31.25%

on 9.30.22, but managed to give us a rally
closing at
-18.63%
.
The DOW 30
reached
a record new high
(1/4/22)
at
36,799.65
. The Dow 30 finished 2022
at 33,147.25,
off -$3,806.40
.
The chart above shows how the DOW30 has been falling since late 2021. It also shows several near-term rallies on the way down. The current level is a support/resistance level, which means no one knows which way it will go. It has tested this level 4 times in the last year.



Another

stock I like his

Walmart (WMT)

$140.55 last week, off from
$1
4
5.26
the week before, because it has become more aggressive and it seems to be attacking Amazon. This is because each and every store is a warehouse making it possible to deliver things to you in just a few hours from the time you order, either online or on the phone. I heard recently it may close some stores due to increasing theft.


Wishing you the best for 2023! JR
---
NICE MOVE !!!
Recommended Low BUY was $1.75
Over 5500%
Recent buy was under $60

Advanced Micro Devices (AMD) (52 week range 54.57 - 132.96), now 74.71, up

from $70.07 last week. Nice gain off the bottom, so far. If bullish, entry here could mean decent short-term profits, depending on the market.



AMD

expanded its desktop processor lineup with new processors that deliver superior performance, features, and near-silent operations. A couple of new processors (A10-7890K and Athlon X4 880K) offer increasingly powerful processor options available for anyone seeking outstanding game play and power efficiency for their desktop PC.



AMD's

data center GPU sales increased significantly over the last year, driven by a double-digit-percentage increase in the shipment of Radeon Vega graphics cards, which were in high demand, but could see this growth slow down a lot.



Since

this slow down will hurt all chip manufactures and users it will be hard to find the diamond in the rough, but I believe this top gainer will again be AMD.



The

price of Advanced Micro Devices Inc. just didn't want to stop climbing but finally gave in several months ago, due strictly to the market falling on virus fears, but following lower than we could imagine but recently the price of the stock started climbing again. This has been one of my top choices with a return of several thousand percent from my $1.75 buy and all I can say is if the market keeps climbing, so will AMD. The current PE is 46.99.



This

stock tends to follow the market and anything close to, or under $70 per share, could be a great bet. It's hard to tell where the stock might go from here but my best guess is higher. Total cash is setting at 5.99B.

Watch close for a sign the markets are bottoming.


---



"Up from under $1 to over $6 in 4 months"
and back down under a $1 again
New 52-week low!



cbdMD, INC (YCBD) (52 week range 0.20 - 1.30), now at $0.3227 off

from $0.3003 last week.



cbdMD

produces and distributes various cannibidiol (CBD) products. It owns and operates the consumer hemp-based CBD brand, cbdMD. The company's product categories include CBD tinctures, capsules, gummies, bath bombs, topical creams, and animal treats and oils. It also offers pet related CBD products under the Paw CBD brand name.

I first gave you this stock on 01.12.20 at $1.05 and followed through with a BUY at $0.58 on March 20/21 and the stock had been climbing and holding, or adding new ground, during the virus attack on the markets. The company announced that

Net Quarterly Sales Jumped 67% Year-Over-Year To $9.4 million

. E-commerce Sales Increased to 72% of Total Net Sales. Confirms Its On Track To Reach Positive Cash Flow This Year. The problem is that earnings were in the minus column and after receiving 18 million from the new offering this should not happen.



The

stock price recently set a new 52-week low at $0.20 on high-volume. High-volume at the bottom is not a good sign because as it runs up it will be hit with sellers coming out of the walls. This stock could easily be a trading stock, but at this point in time not one to hold very long. In my opinion the best bet is to by it for the short term.



Recent

news tells us that the Pres. and CO-CEO just stepped down. Judging by the way the stock has been falling this has to be nothing short of great news. Now if the CEO would step down we may get all the people out of the way that are keeping the stock from climbing.

Best entry when under $.25

---
"Consider buying under $45"
"A Dow Jones Industrial Average Stock"
Cisco Systems recently reached a new 52-week low

Cisco Systems ( CSCO ) (52 week range 38.60 - 57.29), now at $48.27, up from $46.78

last week. This Dow Jones Industrial Average stock (replaced GM).



T

he networking giant

reported earnings and revenue better than Wall Street's revised expectations for the quarter. Cisco's revenue of $190.57 billion, but slightly better than consensus estimates with profits of 2.85 cents per share.



The

stock recently reached a new 52-week low and possibly a great entry-level. The trailing PE is 17.43.



The

current price could be considered a buying opportunity, even in a decent market correction. However I do like the longer-term growth. Entry would be best when under $42, with the $62 target.

Best entry under $42.

---
*****
A "Featured" "Spotlight Stock"

Moves up in down markets

Comtech Telecommunications ( CMTL ) (52 week range 8.42 - 21.69), now at $14.730, up from 14.05, last week. Our original buy under $4, in 2003, carried all the way to over $50 and split twice along the way. CMTL has become a stock to own for the long term again after trading near $9 in Oct. 2016 and almost under $9 six years later.


Comtech

shares have climbed from $10.09, a 200 percent move since the beginning of the year and a new 52 week high, before backing off to under $12 before turning back up and climbing again over 100%, before backing off again.

Comtech, which makes equipment used in satellite and other mobile communications systems, has a strong cash position and has been receiving new contracts repeatedly. The stock was up over 200% in the last 52 weeks, but it seems to be giving it all back.

A "best guess", we could still see a move back to under $10, but.


Entry best under
$10
!
---
A "Giant Winner" "Spotlight Stock"
(But not anymore)
(the stock moves like a snail, but safe at current prices)

Fonar Corp. ( FONR ) (52 week range 13.28 -19.32), now at $18.31, off from $18.71 last week. I first started following Fonar in 1982 and have followed it every day since. The stock is very liquid, as it usually trades strong volume daily. Great products would be the reason to own this stock, but recently business has slowed and so as the stock. Waiting might be the better that, at least till this falling market finds a bottom.

With so many years behind it, the best MRI scanner on the planet, far less shares because of a reverse split a couple of years ago is the real reason for this stock to be one of the best performers this decade, and it did it all in a few years.



It

was a great ride and still might be if in near the low end of the range. The stock seems to reach the point where it has considerable trouble climbing and has been a poor performer so far this year. The trailing PE is 12.46.



As

far as the trading range goes, the stock had a high of $33.15 in in October/17. Currently trading at $18 +. Entry in this area could bring an easy 8 dollar profit, but the confusing market makes it harder to predict how far stocks might move, but is finding it hard to move lower and stay there.


If wanting in buy when near $15.

---
"BUY

HERE"


Intel Corporation
(
INTC
) (
52 week range 24.59 - 52.72
), now at $29.52 off from $39.22 last week.
Intel
is a great company to own for the longer term but too high to buy. The stock fell off a cliff after reaching the 52 week high in December, but bottomed out in February at just under $28 before setting several new highs. Unfortunately the stock has been falling since and lower then anyone could guess the bottom.
Intel
announced sales were crashing, earnings turned to losses, and the pain is likely to persist. Revenue was in line with analyst estimates. Earnings per share (EPS) missed analyst estimates by 4.5%.
Looking
ahead, revenue is forecast to stay flat during the next 3 years compared to a 7.9% growth forecast for the Semiconductor industry in the US.
Intel
(NASDAQ: INTC)
, had to cut its full-year top-line expectations because of weak demand for its data center chips. Chipzilla's data center sales were down 6% year over year to $4.9 billion in the most recent quarter, while the market was anticipating $5.1 billion in revenue from the segment.
The
current PE is 9.14 leaving room to climb.
A top buy this close to the low!
If wanting in entry best here while under $30 !
---
"A Very Active Stock"
"Buy Here"


Qualcomm (
QCOM
) (52 week range 101.93 - 192.10),
now at $133.40, up from $122.90 last week. A very active stock, a fast growing company and a great industry. The stock is active and stays strong even in down markets, but currently $31 off the 52 week low versus $13 last week.
Not
that long ago the
Modem-Licensing

Saga had ended as Apple and Qualcomm Settled. The biggest technology licensing lawsuit of all time came to a surprise ending when Apple and Qualcomm suddenly settled all legal actions across the globe after two years of disputes.



QCOM

recently unveiled Snapdragon-backed third-generation 5G modem — X60. Upping its 5G chip dominance in the global market, the much-awaited launch is likely to boost network performance and provide flexibility to operators with optimized spectrum resources, in the face of universal migration from 4G to full-fledged 5G ecosystem.


QCOM
is setting on $12.91 billion in cash with a book value at $7.25 with cash per share at $11.44. A positive would be the trailing PE of only 11.69.



The stock

falling quite far from the 52-week high of $193 but still seems to be on the slight downturn. Anytime we can get in near the 52 week low there is a strong chance we will own a money maker. Nice company to own on pullbacks.

Best entry would be under $125!
---
- Nice Long-Term Stock -
A Big Winner for the Spotlight

TetraTech (TTEK) ( 52 week range 118.55. - 169.95)

, now at $153.80 up from $151.91
last week. A very nice young company in a great industry (Technical Services). Tetra Tech is a leading provider of consulting, engineering, program management, construction, and technical services addressing the resource management and infrastructure markets.

TTEK

has approximately 10,000 employees worldwide. The stock has moved from $71 on 6/17 to over $88 today, approximately 3 weeks. Credit goes to strong earnings.


TTEK
recently announced that it has clinched a $85-million contract from the U.K. Department for International Development ("DFID"). Per the single-award deal, the company will support DFID's Powering Economic Growth in Northern Nigeria (LINKS) program.



The

trailing PE of 31.66.


Hold here with best entry anytime under $135!

---
New Offering
"BUY HERE"
Money can be made on quick moves if in at the right price

Now trading on the American exchange



Know Labs (KNWN) new symbol (KNW) (

52 Week Range - 0.92 - 4.00

), now at $1.32 up

from $1.30. This stock always makes strong moves higher after falling anywhere under the $1.50 level.

Know Labs, Inc. (OTCQB:KNWN) Know Labs, Inc. focuses on the development and commercialization of proprietary technologies in the United States. Its technology uses spectroscopy to direct electromagnetic energy through a substance or material to capture a molecular signature.



Know Labs, Inc

. designs scanning devices made with electronic, optical, and software parts to produce and capture the light. Know Labs is involved in all types of ID products, even the badge many workers wear to get into work.



The

(about 2 years ago) 1 for 150 share reverse left only about 1.8 million shares trading as the stock fell from over $9 dollars to the under $1. The stock has moved up since but always falls back as it is currently, but I believe anything under $2 is a steal.



KNWN

announced a new offering at $2 on the way to registering on the American Exchange. I believe this is a giant mistake as the American is the least active exchange on the planet. Moving to the AMAX means giving up market makers and they have been given that name because making a market is what they do. Expect a drop in average volume.





Although

, the extra 3 million may need to be spent on promoting the company, otherwise nobody will know they exist. Watch close! I believe the offering could move the stock over $ 4 but it could also send it lower first.



Entry OK when under $1.50 because of the $2 offering!




---
Shop for the bargains in the secondary stocks for potentially bigger profits. Many of the smaller stocks offer a greater opportunity for bigger profits. Looking there might be the place to be. Smaller stocks will move around on their own merits and not so much due to the changing economic situations.
---