---

Monday - June 26, 2017
---
The Current Market
Closing prices week ending 6/23/17 vs week ending 6/16/17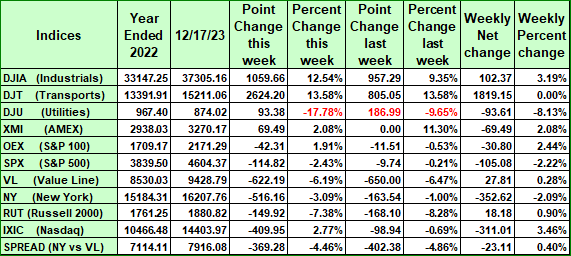 None of the indices finished the week in negative territory for the year

---
There were 5 new 52 week index high this past week vs 9 the week before


The indices finished the week mostly higher, with the NASDAQ coming in as the winner for the week, which is bullish because the markets can't go anywhere without the big OTC stocks. The worst performer on the week was the utility and since there are only 15 stocks in this index it doesn't really matter. Also, the utilities move in the opposite direction of interest rates, which is another reason their lower.



It's

really hard to predict where these markets are going because her up one day and down the next, but if Pres. Trump gets the health care program through were going to see the markets rally like they never have before.



One

of the main reasons for the strong consumer confidence is the revamping of this screwed up Obama care, or should I say Obama-don't-care, and if the health care program does get approved next will be the tax breaks which is really going to propel consumer conference.



The

big question right now is yes these two major obstacles can get past. We have the do-nothing go nowhere Democrats that have no idea what to do but you can bet they are going to do anything that's good for this country. They're still upset that they have a white president instead of their Messiah.



The

Democratic Party truly is getting in the way of running this country, but it appears for just going to have to get used to it and hope that Pres. Tromp can get all of his programs through without because you can bet there will be no help coming from that side.



On the other hand

, if the health care bill does not get through were probably going to see a pretty big selloff and it will start right away. Investors are getting very tired of the Republicans not being able to agree on anything and you would think that after eight years of them not being able to agree that somehow they could work together. We just have to wait and see.



This

is all the more reasons to take profits in your big profitable positions and move that money in the bargains or into small stocks. This is because the bargain is good in any market and small stocks tend to move on their own.



The

next few weeks can teach us a lot about where the markets are going to go over the near-term, but at this point in the game nobody can predict where it's going to go over the long term. My best guess is if Donald Trump can get the programs through that he wants to get through we are going to have one of the fastest-growing economies we've ever had.


Big

money can be made on small start up companies, but since most are scams we have to be very careful. Look for small companies trading

over a quarter ($0.25)

with

fewer shares outstanding

and

decent volume

. These 3 items would be a good start.



I

am currently recommending Powin Energy, last trade $1.35, as a place to be. This is a stock with basically no sellers meaning its the one we want to own. Click here to read my recommendation on Powin Energy.


Looking

at precious metals, after watching gold having trouble climbing, with a total move of
-$8.90
so far in June, due mostly to a stronger dollar and the recent increasing and interest rates, the bombing in Syria and a possibility of going to war with North Korea, we might want to watch the metals a bit closer. One thing about the metals would be they have been trading near the low end of the trading range and haven't been able to get over $1300 since September of 2016.


Gold
closed out the week at
$1,257.80,
up +$2.60
on the week and
off -$8.90
for
June.
The
$1250
level for gold is a strong support/resistance level and enclosed below that level could mean lower ground ahead. Gold traded back over the $1200 level for 21 weeks after staying under it for 1 week. Gold was
off -$123.60
for 2015 and
up +$91.50
for 2016.
Oil
closed out the week at
$43.17
,
off -$2.51
losing
-$6.70
so far in June. Oil started climbing recently because of the decision by Russia and Saudi Arabia to curtailed production and had closed over $50 for 14 weeks, but recent news tells us the stockpiles are quite large, which in turn will make it hard for OPEC to have much control over pricing.
Avoid
oil companies as supply is great, oil stocks are overpriced and there are few signs that higher oil should stay with us that long. Oil has a support level at $35 and I believe there is a strong possibility we will see it.
The
bottom line is,
backed into a corner, once the markets do decide to correct there will be no way of knowing how far down. A much bigger downward move than 10% to 20% will be needed.
Markets do not go up forever and my SPREAD has been telling us the big OTC stocks have gotten so far ahead of the listed stocks the correction will have to be a big one.

Fear
of losing profits will be the driving force behind the coming correction and this fear will not going away soon. I have been telling all to take profits and not because I feel the markets are going to crash tomorrow, but because I believe the markets are going nowhere over the near term, making the risk of holding profits much bigger. Remember, we have to have a reason to hold a stock as well as a reason to buy one.
The table below shows how far the indices have moved
from the 52 week low.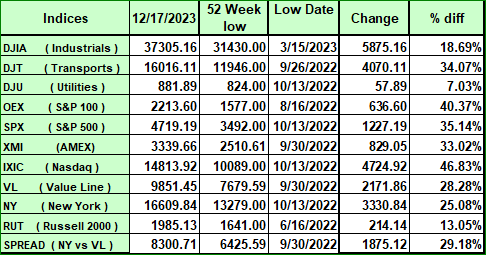 The table above shows 0 indices with less than 10% away from the 52 week low compared to 0 the previous week.
---
The below table shows how far each index is
off from the 52 week high vs the week before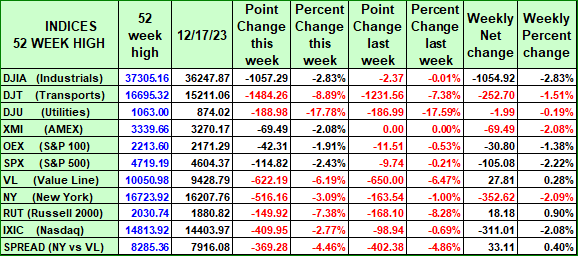 There were 5 indices that reached a new 52 week high this past week vs 9 the week before. There is currently 0 indices in correction territory compared to 0 the week before.

Since the SPREAD is a leading index that has recently been reaching new all-time highs, and should be cause for concern. It's always bullish to see a new 52-week/all-time highs, but what it really is telling us is the markets are very overvalued.When the VL falls faster in this index, it is a giant cautious sign for the near term markets as it is a sign of an overbought market that is ready to turn down. Please keep in mind the SPREAD is a broad market and teaches us much.
Looking Forward

The indices finished the week mixed to higher, but not too much higher, with the Nasdaq winning the race for the week. This is always bullish but the markets are still running sideways making little difference which indices win or lose. It is almost like investors are looking for some kind of catalyst for either buying at the highs, or lightening up.

This 9 year bull market may not need a catalyst. All it needs is a bit more selling than buying to invoke the fear that will make investors sell

. The only problem with this is, assuming I am correct, there is no warning for fear. It happens fast when it does, therefore we need to be defensive and take profits and move them into better bargains.

If we want to get into this market we have to look for bargains in the small caps and special situations in the low-priced arena

.


LOOK FOR
- VALUE - PRODUCT - OPPORTUNITY!
---
- Remember -
It is not what is "going" to happen that moves the markets,
but what investors "believe" is going to happen!
---
This is the kind of market where the smaller companies and the newer companies may be the better place to be. Small stocks tend to move on their own and not so much with current events. A choice small stock is a great place to be in such confusing markets. If the move is a good one, the smaller stock will climb at a greater percentage, allowing a stronger return on fewer dollars.

The concept does work, but the problem is finding the best and the correct stock to move into. Look for a stock with a great story, because with small stocks the story is what makes the difference.

Continue to look for stocks near the lower end of the trading range with strong daily volume, and growing revenue, for the best bargains. Avoid stocks that seldom have news and have stayed down too long.
Two Very Important Rules To Follow
"BUY LOW"
"HAVE PATIENCE"
---
Be sure to visit "The Past Week" for a look at additional
information, stats and tables covering last week's markets.
Clicking on "
Market Comment
" will take you there!

Be sure to visit "Monthly Gains & Losses" for a look at the
past "monthly" performance on the indices going back to 1994.
Clicking on the "Index Gains & Losses" will take you there!

Be sure to visit our "Spotlight Futures" for a look at
metals, oil and currency futures updated weekly.
Clicking on the "Spotlight Futures" will take you there!

Be sure to visit our weekly "Stocks to Watch" section
for brief of updated opinions on several
Spotlight favorite's from the past.
Clicking on the "
Stocks To Watch
" will take you there!
---
"If in the right stock, at the right price,
the market direction will mean little!"

There

are still many negatives with the economy, and the markets, so continue to use caution and stick with value stocks for safety.

Choose wisely!



I'm J.R. Budke and this is my opinion!
The recommendations and updates in this week ahead may include "forward- looking" statements as that term is defined in the Private Security Reform Act of 1995, & therefore are subject to various risks & uncertainties. There can be no assurance that actual results, business conditions, business developments, losses & contingencies, and local & foreign factors will not differ materially from those suggested in the "forward-looking" statements as a result of various factors, including market conditions, competition, advances in technology, acquisitions, potential litigation, personnel changes, capital availability, and all sorts of other factors. Do not make investments based on the material provided in this article. Investors should not make decisions based on any of the material featured here without first consulting with their brokers and/or financial advisors.
J.R. Budke was a stock broker from 1981 to 2000, an options principle since 1982 and a branch office manager since 1987. JR became inactive as a stockbroker on 12/31/99. J.R. writes most of the articles and opinions for the Stocks in the Spotlight. The stories and stocks found on this site, or any "Stocks in the Spotlight" written material, are the opinions of J.R. Budke, unless other wise stated, and should not be considered as advice. You should not purchase any stocks solely on the opinions found on the "Stocks in the Spotlight's" web site or in any of its written material. You should also be aware that options are not for everybody and carry a high degree of risk.

The "Stocks in the Spotlight" provides information only, this is not meant to be a recommendation to buy or sell the profiled security, nor is this an offer to buy or sell the security. The publishers of "Stocks in the Spotlight" are not investment advisors and are not acting in any way to influence the purchase or sale of the security. Before purchasing or selling any security profiled, it is encouraged and recommended that you consult a stockbroker or your registered financial advisor. The reader must understand that the companies we select may involve a high degree of investment risk. Potential investors must understand that they may lose all or a portion of their investment due to the risk involved. Some of the stocks covered on this page may be sponsors to the Stocks in the Spotlight and may have contributed money, or stock, for advertising programs. Some of the companies mentioned may be companies we consult with and have paid an ongoing consulting fee, in cash or stock.You should be aware that the Stocks in the Spotlight could make money on some of these sponsor, or consulting companies, if the stock climbs in price.